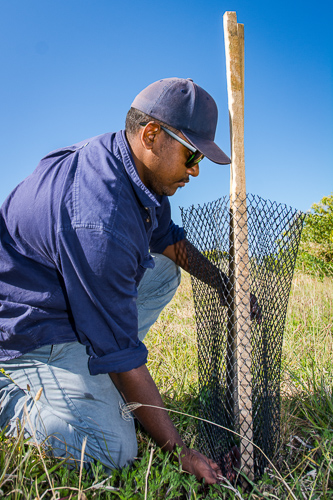 The Darrunda wajaarr Green Team, an important partner of the Jaliigirr Biodiversity Alliance.
Uncle Larry Kelly – Gumbaynggirr Elder.
The Jaliigirr Biodiversity Alliance exists within the Gumbaynggirr Aboriginal Nation, and the Alliance appreciates and values the attachment of Aboriginal communities to this landscape.
The lands of the Gumbaynggirr people cover the coastal strip from Nambucca Heads in the south to Red Rock in the north, extending inland to Grafton, and westward to Glen Innes, Guyra and Wollomombi. The Gumbaynggirr  traditional custodians maintain strong cultural connections to, and across, this landscape and the Alliance recognises that the Gumbaynggirr people continue practices in natural resource management consistent with tens of thousands of years of knowledge and experience. 
The Alliance appreciates the important role of our Aboriginal partners and their representatives, and has chosen the word "Jaliigirr", the Gumbaynggirr word for tree, to represent the partnership.  Our partnership includes representatives from the Gumbaynggirr Elders, Coffs Harbour and District Local Aboriginal Land Council and the Dorrigo Plateau Local Aboriginal Land Council, and the Alliance is a proud supporter of the Darrunda Wajaarr Green Team.
We would also like to acknowledge the special contributions of Uncle Larry Kelly, Robin Heath and Aunty Shaa Smith who have been integral to the establishment of the Alliance and the coordination and delivery of Alliance activities. 
Projects
This research project, led by Aunty Shaa Smith, aims to facilitate the building of relationship between custodial Gumbaynggirr people and Country, and with NRM organisations and practitioners of the Jaliigirr Alliance to build a better understanding of what Gumbaynggirr-led Caring for Country might look like, and how it might be practiced, today. The research is a collaboration between the Gumbaynggirr people led by Aunty Shaa Smith with Neeyan Smith, the Jaliigirr Biodiversity Alliance of NRM organisations, University of Newcastle, and Gumbaynggirr Country on the NSW mid-north coast.
The Centre for Ecological Learning (CEL), as a partner of Jaliigirr Biodiversity Alliance, delivered a pilot Traditional Cultural Corridors project. Gliders and glideways have been identified as highly important indicators of conservation connectivity health as well as offering both a recognisable and iconic way for the broader community to become involved.