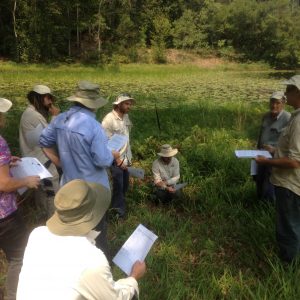 The Jaliigirr Environmental Trust Bush Connect project recently held a workshop with partner organisations and bush regeneration practitioners in order to improve quality and standards of monitoring restoration projects across the Jaliigirr area.
Discussions on bush regeneration methodologies were led by Kim Cheney of Bellingen Bush Regenerators,  inclusive of the photopoint monitoring that has occurred at the Promised Land site.
Partners worked through the standard monitoring and evaluation requirements expected by the NSW ET and other funding agencies in order to improve standards across projects and between partner organisations, with the ultimate aim being improved monitoring and similar standards between projects conducted by partner organisations. 
The afternoon presented a wonderful opportunity  for us as  professional bush regeneration practitioners to come together and hear and learn about the work we've all been undertaking as part of the Jaliigirr Biodiversity Alliance.
The Jaliigirr Bush Connect project is a long running, landscape scale environmental restoration project funded by the NSW Environmental Trust.