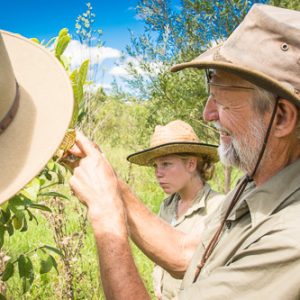 The JBA 'Healthy Catchments = Productive Catchments' project recently held a workshop on revegetation techniques in the Bucca Valley, with 23 participants coming together to discuss pro's and con's of different planting approaches.  The group consisted of bush regenerators, Green Army team members, Landcare volunteers and landholders, with presentations given by Pia Dollmann, Craig Stehn, Ricky Crane and Lloyd Foster. 
The workshop was held on Doug Binns property, the site of one of the first large plantings undertaken through the NCLLS C4 project.  The planting site covered an area of 2.5ha with approximately 2000 trees being planted in 2013.  Shortly after the planting a series of severe frosts and extended dry weather led to some plant losses and stunted growth, but over the following years many of the plants have recovered and areas of natural regeneration are now starting to develop.
The role of woody weeds, and in particular Wild tobacco (Solanum mauritianum), in the restoration of frost prone and exposed sites was a topic that many participants were keen to discuss.  At Doug's place Tobacco has been used to help close gaps and shade out exotic grasses in between the establishing trees.  This mixed revegetation method that uses revegetation and assisted natural regeneration, is slowly transforming a river flat into an important island of habitat in an otherwise cleared floodplain.